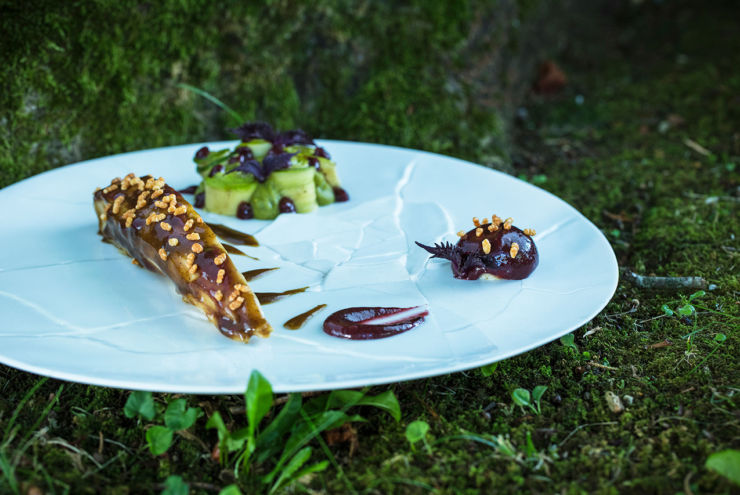 Immersion culinaire
La table de Cédric
Right in the heart of the Basque Country, the cuisine prepared by Cédric Béchade and his teams is constantly evolving, drawing on a region that is rich in produce, people and culture. Cédric cultivates his love for this region by expressing the very essence of Basqueness through carefully-selected combinations that are rooted in tradition.
The mindful integration of and respect for nature has been central to the Auberge Basque since 2007. Committed to an ecological approach, the Chef and his teams select only the healthiest ingredients, which they then carefully combine to enhance the different flavours.
Part of the Relais & Châteaux network, the Auberge Basque offers guests an exceptional culinary experience
at four different times throughout the day. 
A few words from Cédric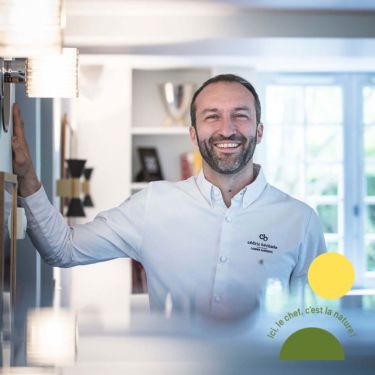 To produce cuisine rooted in meaning and tradition, my team and I follow a strict general rule – the majority of our ingredients must be produced within a 200 km radius. This is both creatively stimulating and ethically rewarding because, at the end of the day, it means that Nature selects our dishes.
Cédric Béchade : locally-sourced, conscientious cuisine since 2007.
Country lunches
Committed to natural produce and its authentic flavours, Cédric has realised his dream of reviving open-flame cuisine. There is something deeply comforting about open-flame cooking, which forms the basis of his country lunches.
Using a wood-fired oven, a barbecue oven and a range of planchas, the chef can grill large pieces of meat, produce slow-cooked braised dishes, simmer food in fresh herb elixirs and prepare comforting desserts such as rice pudding and crème brûlée.
Available lunchtimes only. Lunch can also be served in your room or by the pool.
See the menu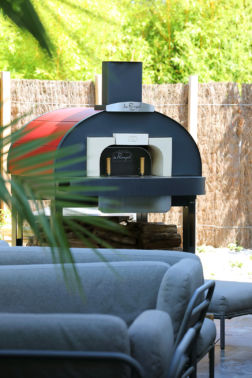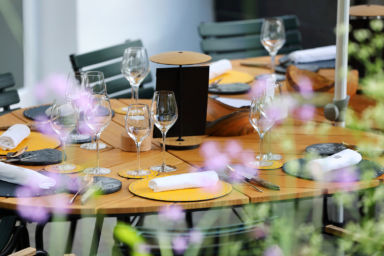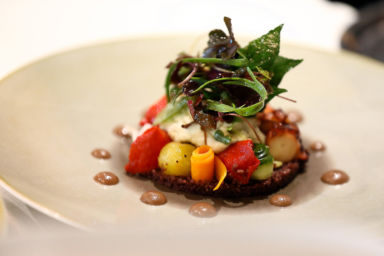 Michelin-starred gourmet dinners
In a constant thrill of creativity, chef Cédric is sure to win you over with an unforgettable experience in an exceptional setting. Sophistication, tradition and creativity come together in his very personal brand of constantly evolving cuisine. A lover of the Basque Country and of its culture and people, his aim is to showcase local produce and traditional farming and impart meaning to his inspired cooking.
Details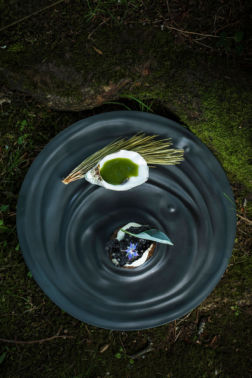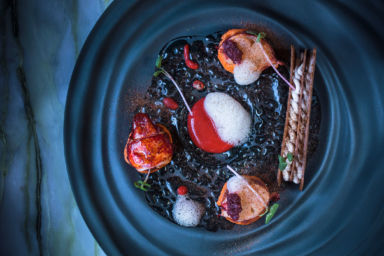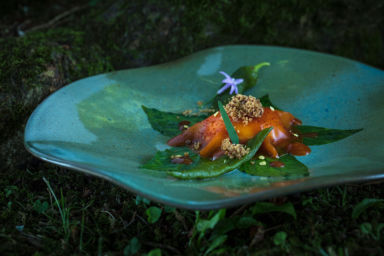 L'esprit de la table
Dedicated to locally-sourced, conscientious cuisine, the chef and his dynamic young team set out to provide their guests with a lavish and heartfelt experience.
From breakfast to dinner, meals are served in a chic contemporary decor in the company of nature. It is here, looking out onto the surrounding countryside, mountains and Nivelle valley, that the chef and his teams will treat you to a unique and homely gourmet experience. This is a place of constant, quiet happiness – and it's catching!
Cédric's restaurant reflects the man – elegant and tasteful. It is full of light, which brings out the shades of wood, splashes of colour and comfortable designer furniture. Complementing this sleek, natural look are the modern paintings of Tony Soulié, whose dark tones present a pleasing contrast.
The chef's love of all things Basque is confirmed in a myriad of small details. Once seated, guests are surrounded by beauty – to one side are the open kitchens and their staff, whose precision-perfect ballet is a privilege to behold, and on the other the huge bay windows that look out onto glorious scenery. The Auberge Basque is set in a relaxing haven, surrounded by deep green grassy hillsides with, in the distance, the rugged, cloud-topped mountains with their distinctive shapes, including the locally-renowned 'sleeping Basque', dominated by Mount Larrun.
Take your seats on the front row of this beautiful natural spectacle facing the Valley of Nivelle, and let your senses soar with Cédric's delicious cuisine.
Special offers
To provide you with as special and enriching an experience as possible, we have created a selection of special offers – gastronomic holidays and themed breaks, plus gift packages for yourself or a loved one!
Getaways
Nature getaway
A stay close to the nature is like an invigorating homecoming! We offer you in our Nature Getaway a package to combine the discovery of our interior Basque country and the relaxation in our green setting, from 522 euros.

From €522 per person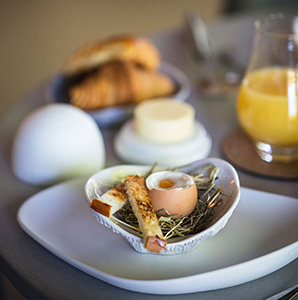 OFFER
Easter offer
To celebrate Easter Marion & Cédric Béchade have created an unmissable breack :
2 nights booked = Chocolat Glutonny in your room


from €200 overnight stay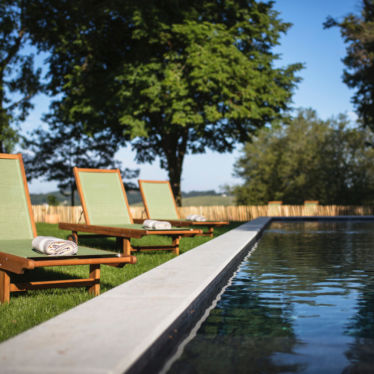 Gift cards
Gift packs
Visit our online store to find out more about our gorgeous gift packs – dinner for two or dinner plus an overnight stay at the Auberge Basque Contemporaine

from €106 per person