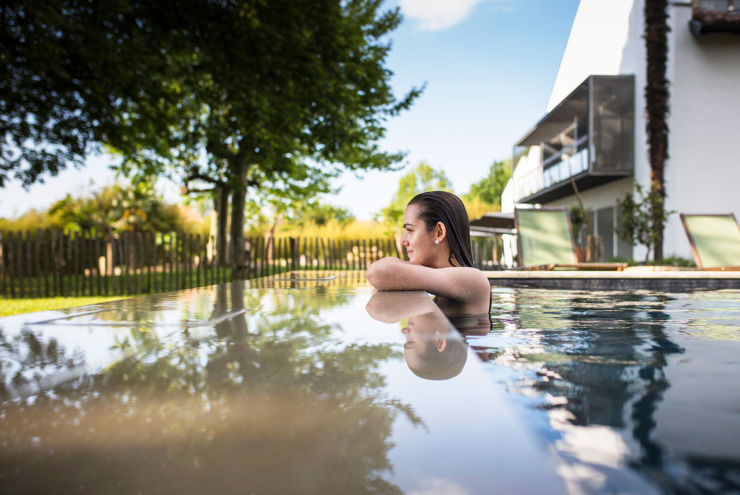 Escapades immersives
Marion's Guest Rooms
Located just a few miles from the Basque coast and facing Mount Larrun, the Auberge Basque features 12 guest rooms, each one different from the rest and designed to offer you a unique experience. Entirely refurbished by Marion and Cédric Béchade, they provide exceptional comfort, in harmony with the natural surroundings.
The magical decor and services provided foster an atmosphere of warmth and friendliness, so dear to the Béchade's hearts. They have put much thought into optimizing and reorganizing the available light and space, so as to provide each guest with a unique experience.
Nos 12 chambres
4 star hotel
"The guest rooms at the Auberge Basque have been designed to feel as welcoming as our own home and to make you want to stay. Welcome home!" Marion and Cédric Béchade
The rooms have all been completely refurbished to exude a sense of harmony. They feature 'burnt wood' parquet flooring, new furniture and designer pieces mainly from Maison Sarah Lavoine, Harto, Elitis, Bosc, Alki and other eco-friendly labels, headboards and wardrobes made to measure by local craftsmen, plus personal touches by Marion Béchade. The colours in each room have been carefully selected to be uplifting and to evolve throughout the day according to the changing light.
Our personalized services make for an enjoyable and tailor-made stay.
We provide, among other things:
A Marshall speaker and iPod for you to choose your own music, a choice of pillows of varying levels of firmness, personalized treats and so on.