Le café basque
An iconic site
With its exceptional location, situated on a wide promenade overlooking the main beach, Biarritz's iconic Café de Paris reopened on 19th May 2021. And while its unrivalled view of the ocean and legendary charm remain unchanged, it now has a totally new look!
Breathing new life into a historic site
Totally refurbished in 2020, the Café de Paris is the place to re-awaken your senses in Biarritz, with its views of the ocean, decor by Sarah Lavoine, and gourmet food from chef Cédric Béchade.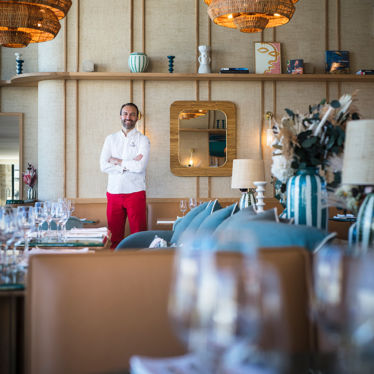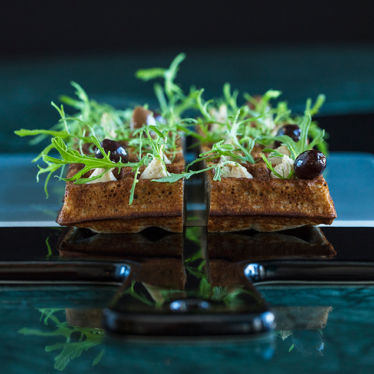 Café gastronomique
with chef Cédric Béchade
Since the 2020 refurbishment of Biarritz's Café de Paris hotel, Cédric Béchade – Michelin-starred chef at the Auberge Basque in Saint-Pée-sur-Nivelle – has been the man behind its Café Basque gourmet menu.
Committed to local sourcing, Cédric centres on Basque Country produce, with joyful and spontaneous recipes inspired by gourmet cuisine. Piperade revisited, squid in ink, veal tartare and hay-smoked veal sweetbreads, Madiran mushroom tart and fruits of the forest sabayon are just some of his characteristic dishes designed to uphold the art of Basque cuisine.
Dedicated to real, authentic cooking, the chef draws his inspiration from the surrounding Basque region and works closely with local producers. 
In addition to those suggested on the menu are a number of dishes to share, such as Arbequina olive waffles or black pudding and vegetable tart, which are available at the bar throughout the day and provide the perfect accompaniment to an aperitif with friends. And finally, those with a sweet tooth will love Cédric Béchade's Tea Time – a brand new concept to delight foodies everywhere.
Already awarded a Michelin Guide recommendation, this gastronomic café has now become the place to go in Biarritz.